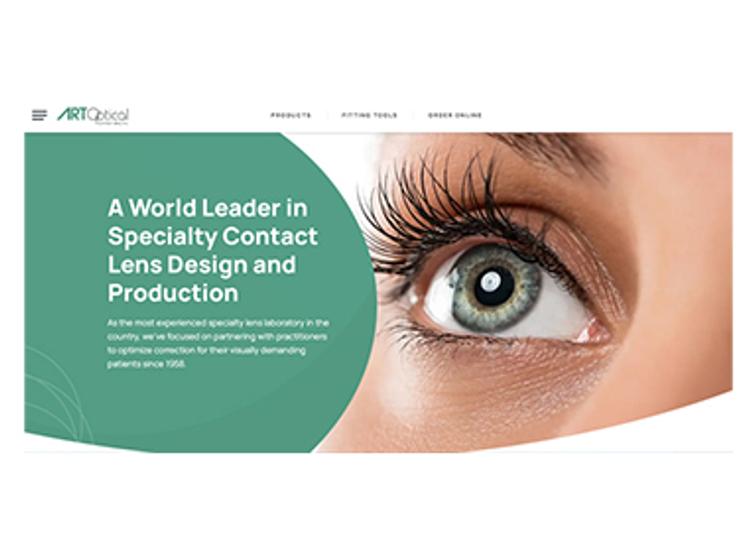 Art Optical Contact Lens, Inc., a leading provider of custom contact lenses, is pleased to introduce an all-new website. ArtOptical.com has been reengineered to give eye care practitioners easy access to fitting, ordering and educational resources that enhance specialty lens practice management.
The newly released site features a mobile-first platform, simplified navigation, and an extensive array of specialty contact lens related content organized categorically by lens type.
In addition to product details and fitting references for scleral, presbyopic, irregular cornea and myopia management lens designs, site visitors can find related solutions and supplies, place orders online, and upload topographical maps, fluorescein images, and on-eye videos for assessment by an Art Optical Consultant. Practice management tools include an automated credit request portal, downloadable office forms, and more.
From an education and fitting standpoint, ArtOptical.com features lens design calculators for their signature products, including Ampleye® scleral, Renovation® Multifocal, MOONLENS® Ortho-K, Intelliwave® PRO custom SiHy, as well as common conversion charts and reference guides. Educational videos, interactive tools, and patient resources are also available.
Erik Anderson, Art Optical's Executive Director of Professional Services, said, "We are constantly working to improve the specialty lens experience for our customers. With the new site, we have made it easier to find the most frequently referenced content, and to access all areas of the site from phones and tablets without losing functionality. Plus, our new platform allows for future growth and expansion, so we can be more agile in keeping content fresh and relevant."
In the interest of expanding specialty lens education, Art Optical has made these resources available to the entire eye care community – without membership or sign-up required.